Happy (almost) Thanksgiving! I'm getting v e r y excited that Turkey Day is just around the corner. My bird in chilling in the fridge and I'm finalizing my prep for Thursday.
Today's blog post is Part Two in my Friendsgiving Series. I'm going to be showcasing the final versions of the DIYs I've made to decorate for Friendsgiving and how I've set them up in my home.
All of these projects are basic and approachable for even first-time crafters. If you haven't seen my Youtube video from last week with a haul of the items I picked up, check it out before you dive into the finished products pics below.
Without further ado, here are my Friendsgiving home decor projects.
Welcome Pumpkin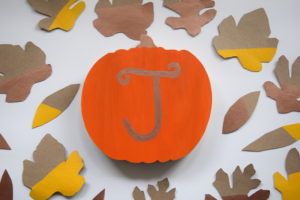 Of all the projects I worked on, I'm most excited for how this table sign turned out, as I know I will be able to use this for many years to come. I found the craft pumpkin on sale at Target and decided to paint it orange (obvi) with a copper "J". J is my last name initial as well as my partner Dean's so it works for both of us. I styled it on one of our end tables with my lantern and a plant.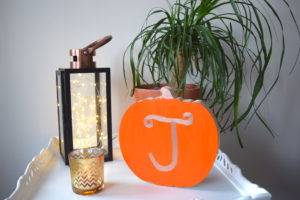 Leaf Table Decorations
These leafs were the craft I was most worried about but I'm SO pleased with how they turned out. All I did was trace some leaf shapes from a few dried leaves I found outside and cut them from the chipboard. (Note: If you have sturdy fabric scissors they will likely work better with the chipboard/not make your hand cramp while cutting).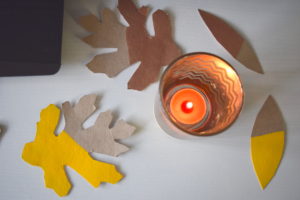 Once I had all the shapes, I painted copper and yellow color blocks on the leaves. That's it! I'm arranging some of the leaves on the TV stand, next to a slightly premature dish of Reese's bells and a votive. The rest of the leaves are going on my dining room team around the centerpiece.
Foliage Centerpiece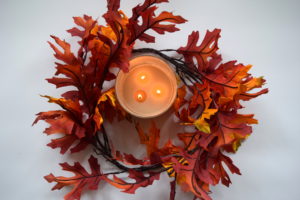 The fall foliage craft was the easiest one to complete. I broke part of the stems off the branch and arranged them on a tray around a candle. I'm glad I kept this one simple and didn't break down the branches. Originally, I had planned to cut the leaves off but this way, I can easily change up how I use them next year.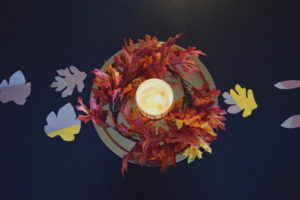 Circle Garland
I loved making the circle garland. Sticking the circles together, in the repeating pattern of colors, was very relaxing. Since the circles were originally label stickers, I was able to take 2 of the circles and stick them together easily.
I adhered the circles along one long piece of twine. After all the circles were attached, I wrote a few messages on the garland: "Give Thanks" and "Welcome", and draped the garland above our back hallway.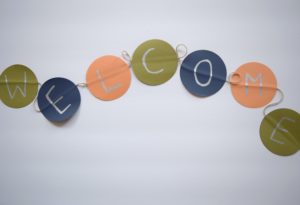 One thing to note, I wanted the garland to "swag" while still keeping it as one continuous piece. In order to do that, while I was writing "Welcome", I flipped the garland to the other side.
Give Thanks Wreath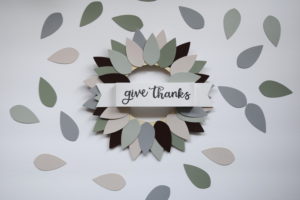 Crafts-in-a-bag like this Give Thanks Wreath are a great way to incorporate DIYs in your home, without needing to come up with them yourself. I'm REALLY happy with how polished this wreath looks for a 3 dollar Target find! I'm most looking forward to my friends writing on the additional leaves and affixing them to the wreath. That is the feature that makes this craft truly memorable.
I hope you enjoyed the Friendsgiving series. Let me know what you're doing to decorate for Thanksgiving! I'd love to hear from you.
Have a lovely and restful Thanksgiving Holiday!